AutoTeam Delaware was originally founded in 1916 as Delaware Motor Sales, serving the entire Delaware area for over 100 years!  In 1982, the current ownership assumed control of our dealer group, now known as AutoTeam Delaware, which includes Delaware Cadillac, Delaware Subaru, and Kia of Wilmington.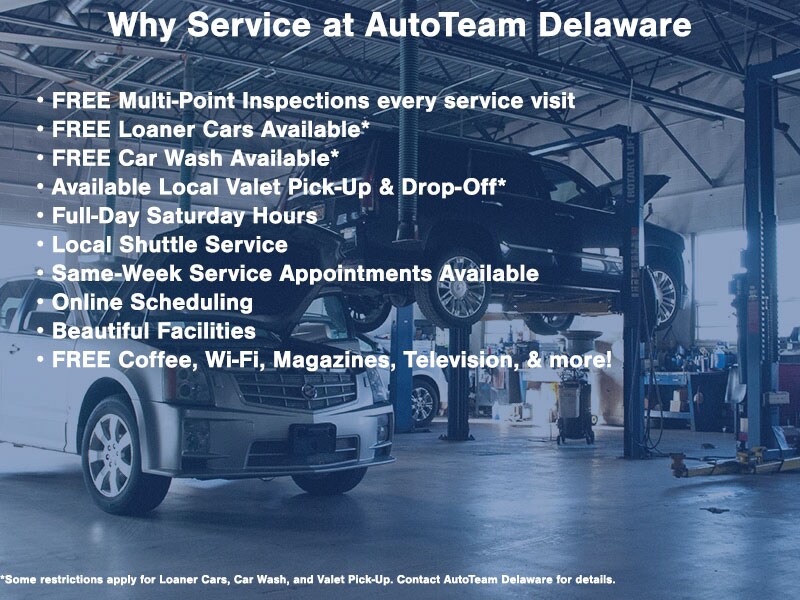 Awards & Accolades:
AutoTeam Dealware is Better Business Bureau Accredited Business with an "A+" rating, a Founding Member of Delaware's Better Business Bureau, a Member of Delaware's State Chamber of Commerce, a Member of the National Automobile Dealers Association, a Delaware Super Stars in Business Award Winner, a Delaware News Journal "Best In Business" Top Employer, and a Best of Wilmington Delaware Award Winner in the Auto Repair category by the U.S. Local Business Association (USLBA).  
Additionally, AutoTeam Delaware was the recipient of the "Above and Beyond" award from the Employer Support of the Guard and Reserves organization; this award recognized our organization, and our President Michael Uffner, for efforts to hire, train, develop and support our nation's veterans, National Guard, and Reserve members.
Delaware Cadillac has been recognized as a Cadillac Master Dealer winner, a GM Mark of Excellence Award Winner, a Cadillac Standards for Excellence Dealer, and a Cadillac Certified Elite Servicing dealer. Additionally, Delaware Subaru has been recognized as a Stellar Performing Subaru Dealer, and Kia of Wilmington has been recognized as a Kia Dealer Excellence Award Winner.  These awards recognized our achievement of  Customer Satisfaction Ratings above Regional and National Levels for Sales and Service in each of our franchises!
About the Owner:
Michael Uffner, President and CEO of Delaware Subaru and AutoTeam Delaware is a former chairman of the board of directors in the Delaware State Chamber of Commerce and is a creator of the Small Business Alliance. Uffner is a recipient of the Delaware State Chamber of Commerce Marvin S. Gilman Award. Additionally, Uffner was honored at the 2011 annual National Automobile Dealers Association Convention with a nomination for the 42nd annual TIME Dealer of the Year Award.
Learn About our Dealerships:
Delaware Subaru
Kia of Wilmington